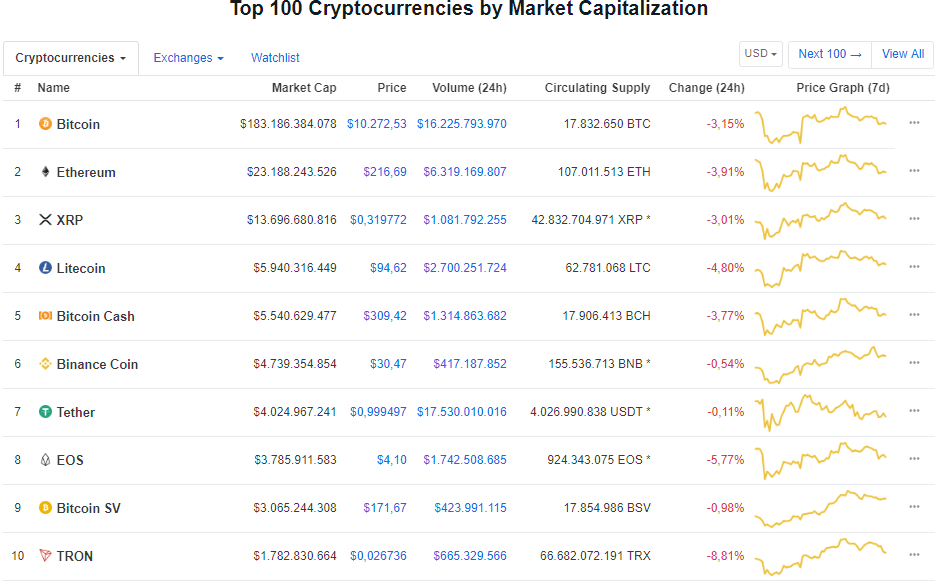 Analysts Alex Kruger and Josh Rager give their Bitcoin Predictions
Cryptocurrency analyst and economist Alex Krüger says investors should welcome the current withdrawal of Bitcoin and points out that Bitcoin will increase faster and sharper.
Bull market corrections are unavoidable and should be welcome. Assets that go too far up too fast tend to crash the hardest. As everyone who speculated with the price of bitcoin during 2017 and 2018 well knows.
In the short term, analyst Josh Rager points out that BTC 's previous support on the one-hour chart shows resistance, suggesting that Bitcoin could fall below $10,000.
$BTC Breaking down to support zone
On 1 hr chart showing top of support zone now acting as resistance
Not a great sign for bulls and want to see price break back up in neutral territory
Continue to watch this area for a break $,10,189 will lead back down to 4-digit BTC
Crypto Money Market
When we look at the price outlook of the crypto money market, we see that Bitcoin experienced a 3% decrease. Bitcoin is traded for $ 10,272. The volume in the last 24 hours is around 16 billion dollars. The market value of Bitcoin is around 183 billion dollars at the time of writing.
When we look at Ethereum, the king of the Altcoins, we see that it traded at $216 with a decline of about 4%. Ripple's XRP is also down and is trading at $ 0.3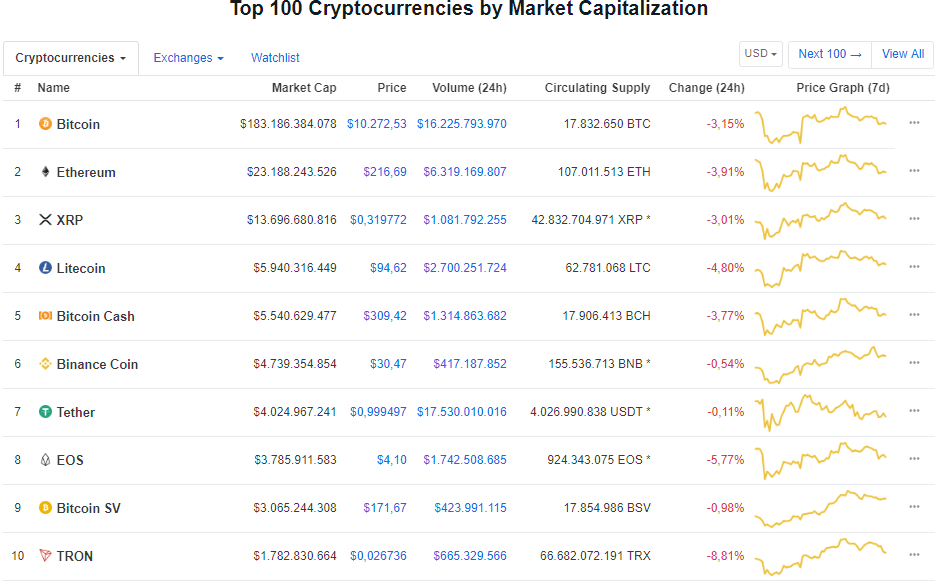 Looking at the coins in the top ten of the crypto currency world, Litecoin traded at $ 94, down 4.80%, Bitcoin Cash at $ 309, down 3.77%, and Binance Coin at $ 30.47, down 0.54% as seen in the
EOS, the number eight in the crypto currency world, traded at $ 4.1 with a decline of 5.77%, while Bitcoin SV, which has seen an effective increase in recent days, is trading at $ 171 with a 0.98% drop. Finally, Tron is trading at $ 0.026, down 9% at the time of writing.
BY TULIKA JAIN ON JULY 23, 2019
Alan Zibluk Markethive Founding Member