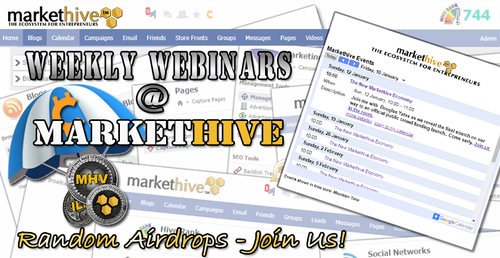 Markethive Weekly Webinars – Do Yourself A Favor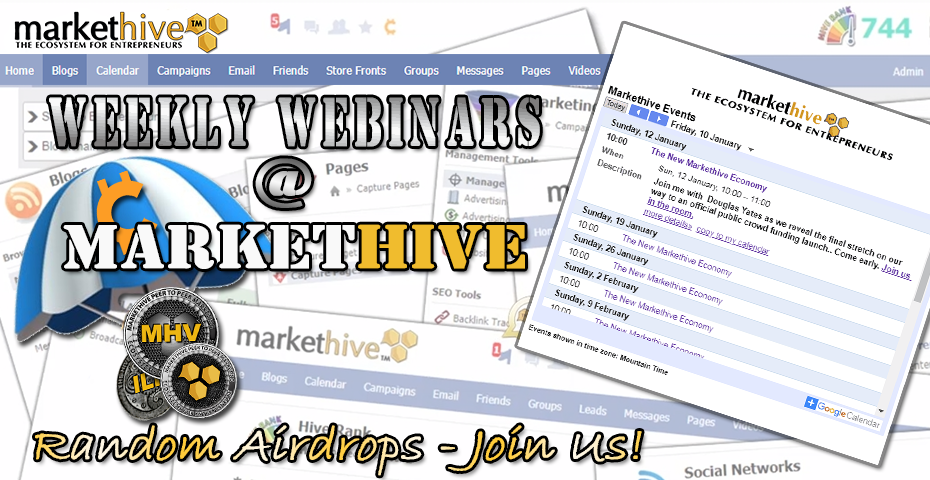 There's always something new and exciting happening here at Markethive and what better way to keep informed than attending our weekly live meetings. The Markethive Calendar is your go-to when checking what and when the meetings are held and also where. Situated in the blue navigational bar, and clicking on "Calendar" will display a pop-up window with the event, date, time and link to join.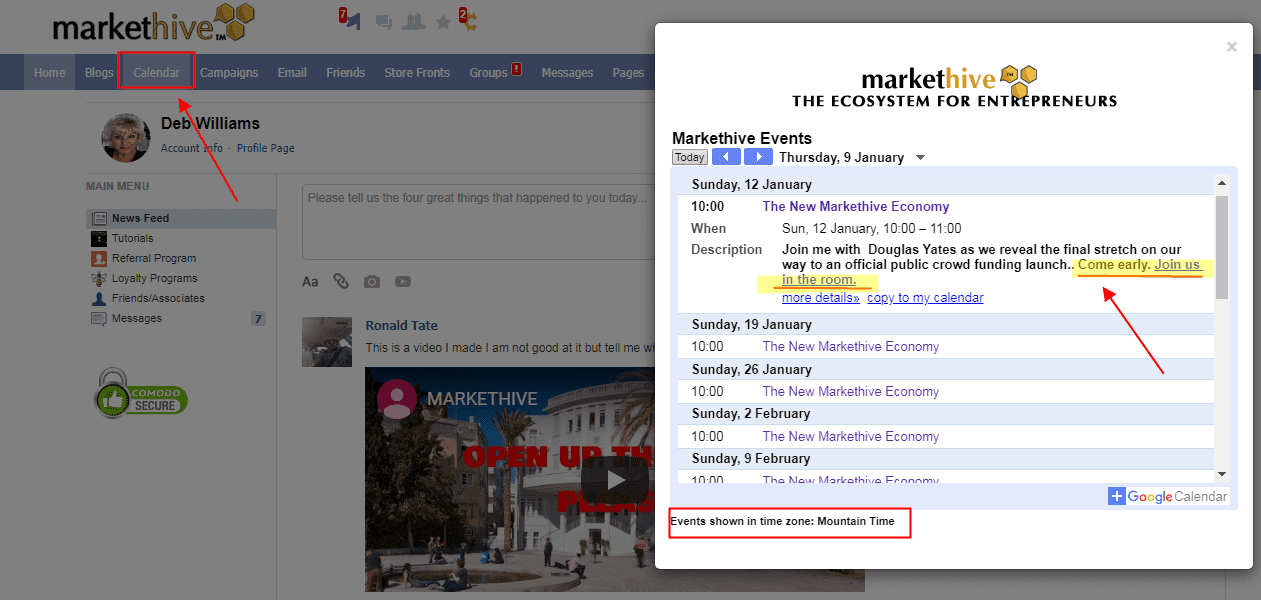 Currently, The New Markethive Economy meeting takes place on the Zoom platform. Google Hangouts may be used from time to time also. Wherever the meetings are held, the link will always be in the Markethive Calendar for you to access easily and quickly. These platforms are for the interim period until we launch our conference room at Markethive.
Markethive weekly meetings are live with the CEO and Founder Thomas Prendergast presenting and CTO, and Chief Engineer, Douglas Yates giving us all the latest updates as we move forward to launch and with the integration of the many facets which make Markethive unique in the many industries it covers, from Blockchain, Crypto and eCommerce, to Inbound Marketing, Digital media publishing, and MLM. (Note: These meetings are not recorded.)
There is always something new to learn when attending these meetings. Not only do you keep up to date with the latest news and get a better understanding of Markethive's proprietary technology, but you're welcome to give feedback or ask questions for more clarity on anything pertaining to the Markethive platform.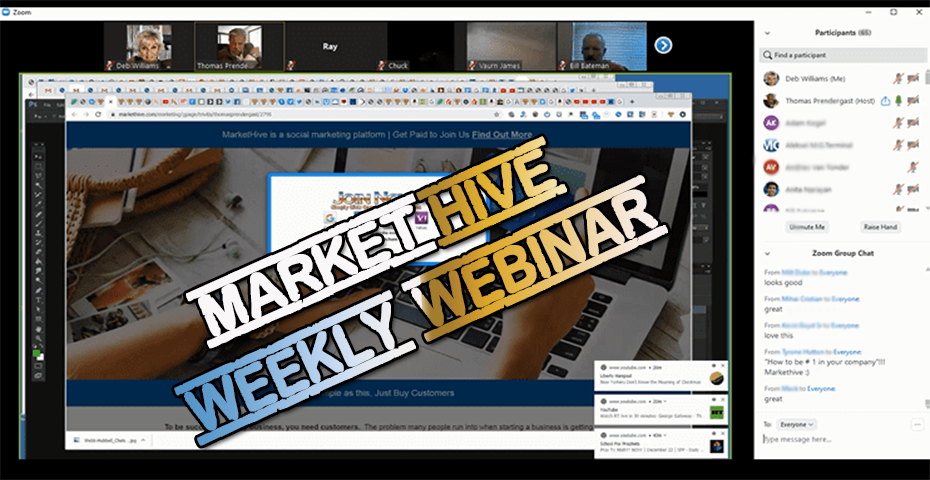 It Lifts You Up Where You Belong
It is vitally important every new member coming into Markethive understands that it's not just about the system, it's about the character and caliber of people within the Markethive system. Based on collaboration, benevolence, and transparency, not division, greed, or opacity. The Markethive meetings are real and transparent, not hyped up and fake. They are uplifting and confidence-building jammed packed with valuable information and above all, friendly and supportive.
Google Calendar Integration
What chaos would we be in if we didn't have a calendar to remind us of our busy schedule? So instead of just going to the Markethive Calendar for the event within the back office, we have integrated the Google Calendar for both time-management and scheduling Markethive events, webinars, and leads that all auto-publish to your Google calendar. So you can be notified and gain access to any information and the link to attend all of the meetings from your personal calendar. This makes it even easier and is just one of the services in the Markethive environment.
This tutorial video below will give you all the information on your Google Calendar to become a master at time management and never miss a meeting at Markethive.
Random Airdrops… Bonus!
Most meetings randomly have MHV Coin Airdrops and the recipients are chosen from the people who attend any given meeting. These airdrops can vary and are often into thousands of coins. It's a great incentive to attend and a sure-fire way to rapidly accumulate your MHV coin clip portfolio. The airdrops are distributed by Thomas Prendergast, so be on the lookout for a surprise in your coin clip.
To make it even more interesting we invariably hold competitions which are announced at the weekly webinar and you will hear it first by attending the Markethive Meetings! The old saying…"You never know if you never go!"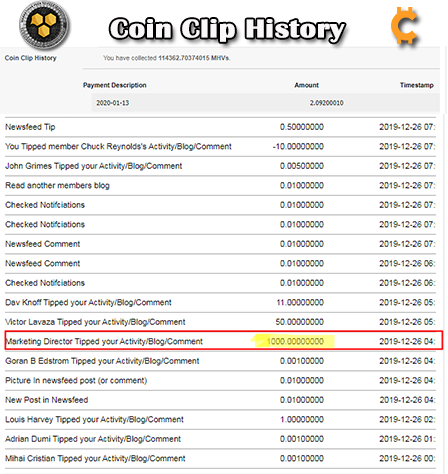 Another Good Reason To Attend
As Markethive is in BETA, we are considered early adopters. Imagine sitting in at the meetings with the board of directors at Facebook or LinkedIn. Markethive is built for the people, with the people and is of the people and being decentralized on the Blockchain with its own ecosystem built-in, it's very much your company and you are highly valued. You come first, so of course, with this ethos and the fundamental architecture of Markethive, your imminent success is Markethive's success.
Along with the Automated Tutorials system and Markethive Telegram Support Channel, you can learn so much from the weekly webinars while you are made to feel a part of the very fabric of Markethive. The first and only Social Market Network with its own Blockchain is the complete ecosystem for the Entrepreneur of which we can rightfully consider ourselves to be.
Markethive is for everyone, particularly for the rank and file and a place to attain financial, personal and professional sovereignty. Thanks to the God-given vision and technology of Markethive we all have a way to succeed online. We no longer belong in the 99%ers.
"Whether you think you can or whether you think you can't, you're right." – Henry Ford
You yourself determine your own success or failure. Self-confidence is a powerful thing. If you think you can, you will succeed or somehow find a way to do it.
Find a way to get to the Markethive weekly meetings. It's an exhilarating way to build your self-confidence. See you there!

Deb Williams
A Crypto/Blockchain enthusiast and a strong advocate for technology, progress, and freedom of speech. I embrace "change" with a passion and my purpose in life is to help people understand, accept and move forward with enthusiasm to achieve their goals.