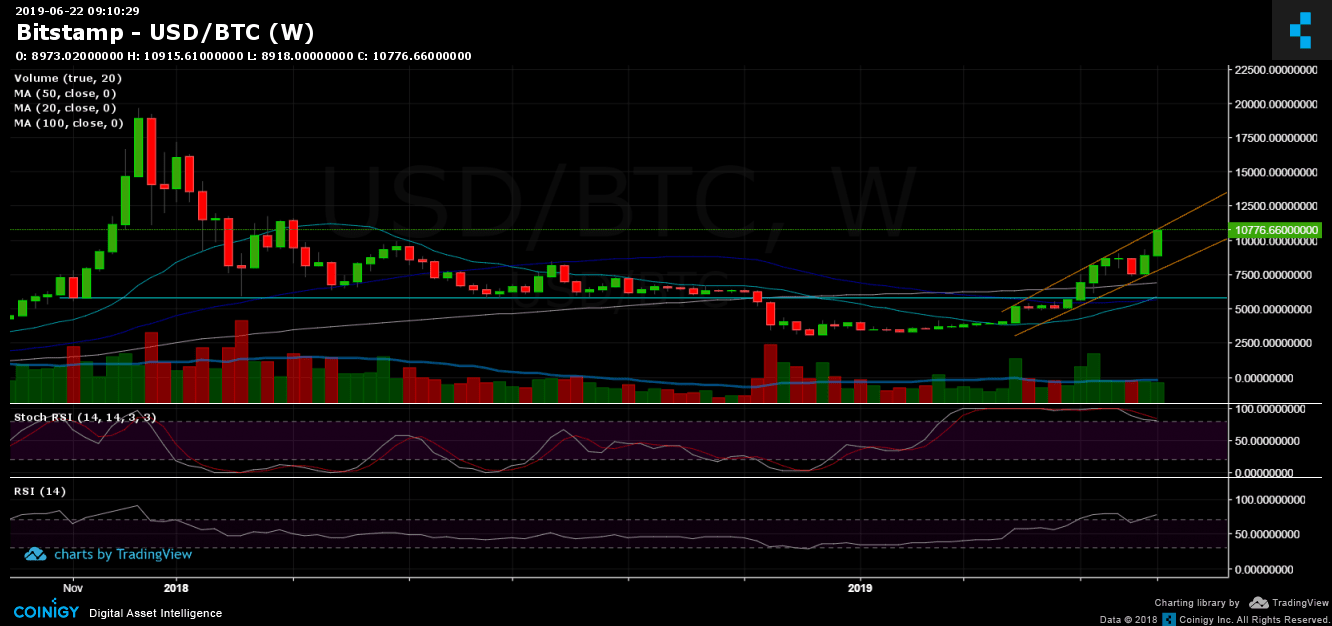 Bitcoin Skyrockets To $11,000 – How High Can It Go From Here? BTC Price Analysis & Weekly Overview
The most famous cryptocurrency does it again: Just four months ago Bitcoin was trading close to $3000, and now – close to $11,000.
Bitcoin managed to survive drops of more than 80% in its value successfully. Not only survive but overcome and become even stronger than before. Such strength we could have seen during the past three months, following the breakout of the $4,000 zone.
The $11,000 area was the target given to Bitcoin in our analysis from just two days ago. Another thing to note is the action during the weekends. Bitcoin whales plan their action to the weekends, and it's not a coincidence that the breakout took place when most of the world is off to start another weekend.

Total Market Cap: $322.8 Billion (crossed $300 Billion!)
Bitcoin Market Cap: $190.8 Billion
BTC Dominance: 59.1%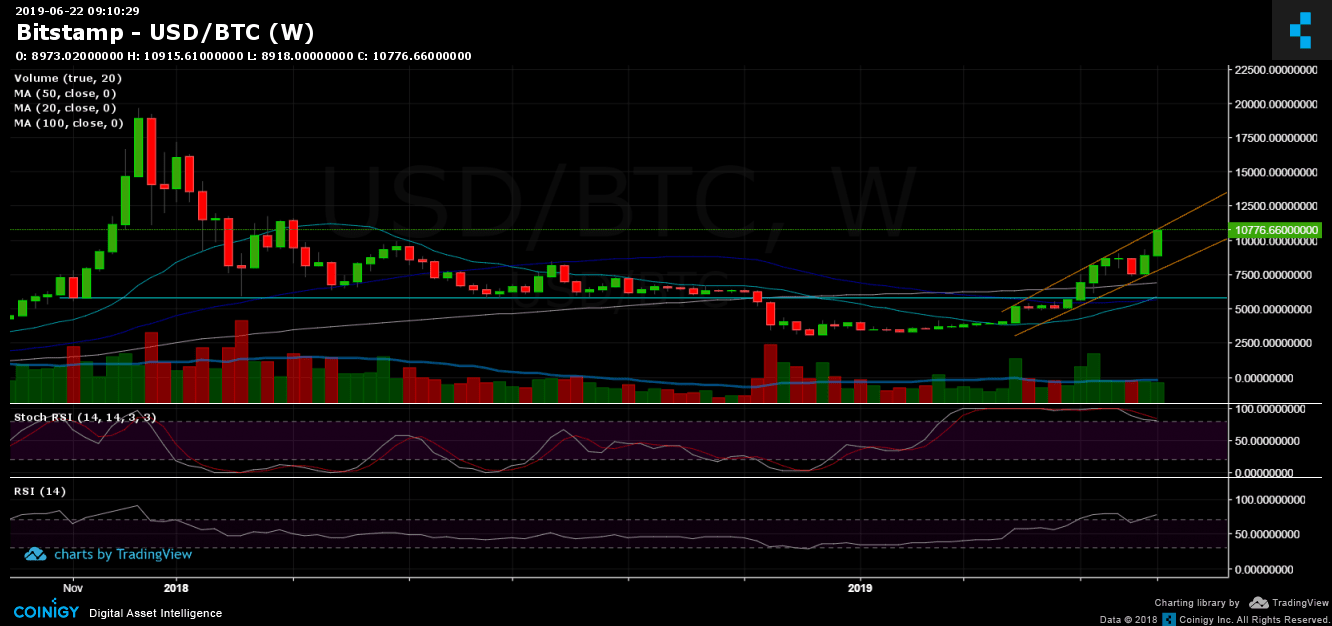 Looking at the 1-day & 4-hour charts
– Support/Resistance:
Looking at the daily chart, we can see Bitcoin's breakout of the upper ascending trend-line (out of the three lines, marked in orange). However, the longer-term weekly chart tells a different story, as the $11,000 serves as a robust resistance level.
Since the coin hadn't seen a significant correction since the $7500 area, and the fact that Bitcoin is in the middle of yet another parabolic move, at the time when a correction will take place – it will hurt, however, till then you better not disturb the bulls. Anything that goes 3x in three months is unexpected and volatile, to both sides.
Now the closest resistance lies at $11,000. In case that this zone gets broken above, the next significant resistance area is around $11,500 – $11,600, which is the high from February 2018. Further above lies $12,000.
From below, Bitcoin had crossed $10,000 like it was nothing. The nearest levels of support lie at $10,600, $10,200 and $10,000. Below 5 digits is the $9600 – $9700 support area, $9400, $9000 and $8800.
– Daily chart's RSI: The RSI also broke out above 70 and now facing the 80 level. However, one concern is the divergence in the RSI, both daily and weekly charts. To see the bullish momentum continue, the RSI needs to follow Bitcoin's price chart in creating higher highs. Another thing to note is that Stochastic RSI of the daily chart is stretched out to the overbought area.
– Trading Volume: The volume is still not record breaking, yet. This is according to the divergence in the RSI. However, this could be due to the fact that it's partly weekend.
– BitFinex open short positions: Just as expected, the open short positions are gaining momentum along with the rising Bitcoin. There are now 28.8 K BTC of open short positions. This is their highest level since May 11.
BTC/USD BitStamp 4-Hour Chart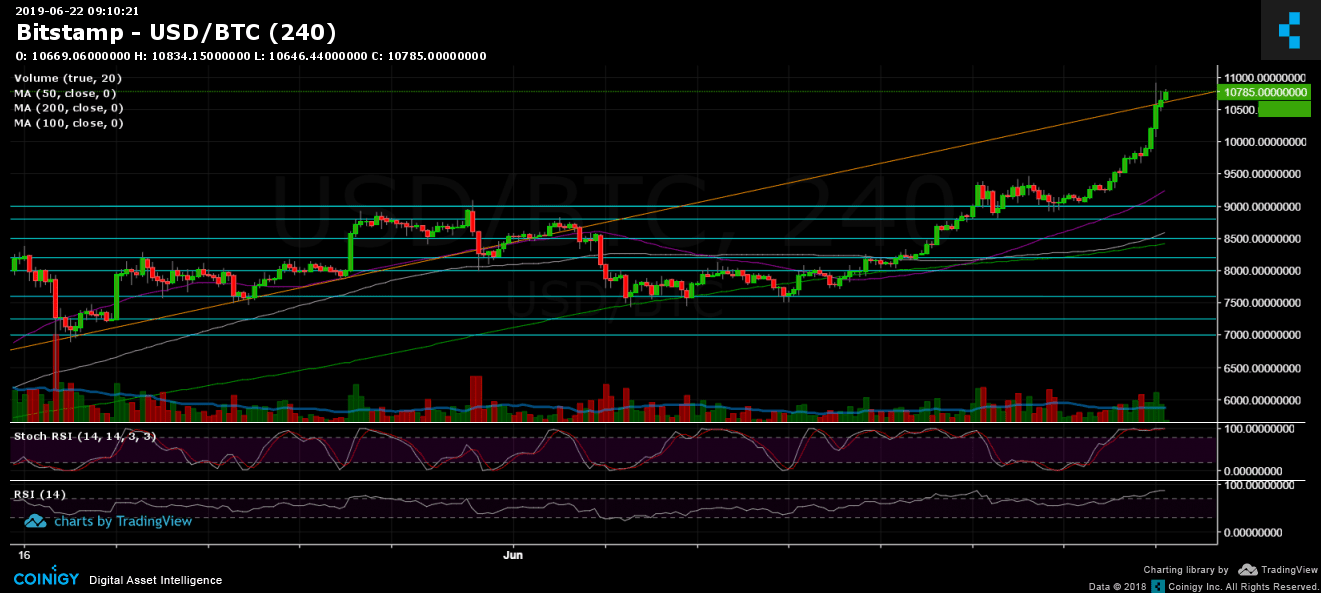 BTC/USD BitStamp 1-Day Chart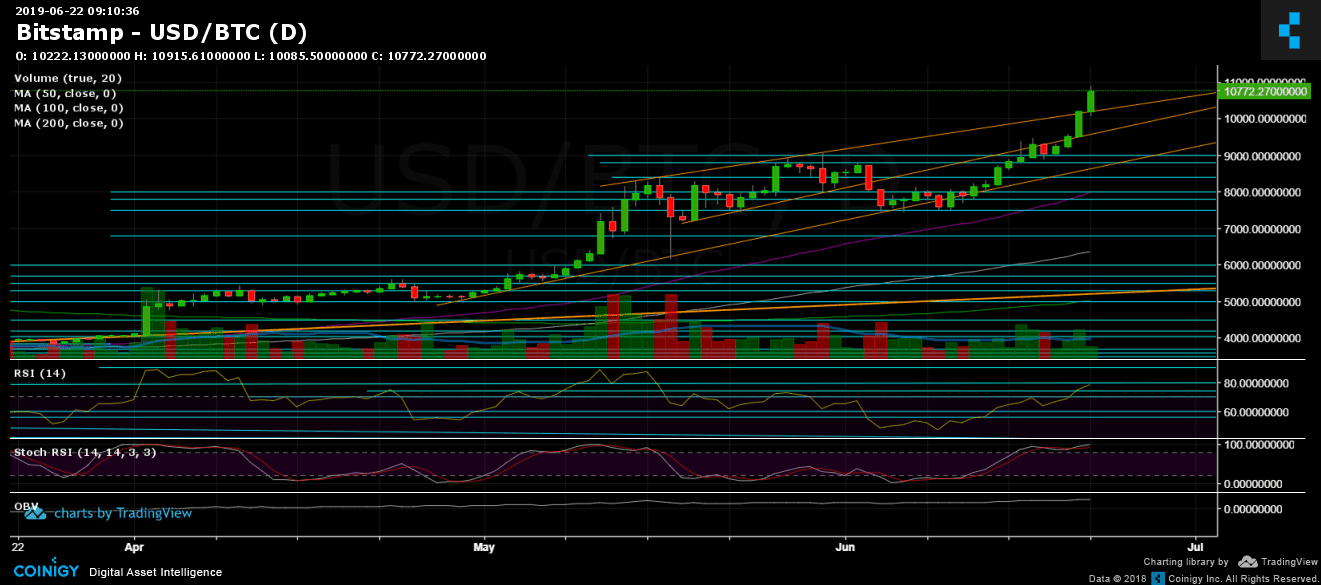 AUTHOR: YUVAL GOV LAST UPDATED ON JUN 22, 2019 @ 09:14 UTC
Alan Zibluk Markethive Founding Member