Why is this Distressing News from Deutsche Bank a Good Signal for Bitcoin?
On Sunday, Deutsche Bank announced that it would soon make significant cutbacks to its investment bank unit. Reportedly, about 20000 employees could lose their jobs in their process. On Friday, 5th July, the head of Investment Banking, Garth Ritchie, also announced his departure from the firm.
New York and London offices of the largest Germany's business Bank is expected to experience the majority of the cut-backs.
The current economic situation is upsetting. Europe is facing significant scale problems. Nevertheless, a distressing economy could be a good signal for unrelated assets like Bitcoin and Gold. Anthony Pompliano, the founder of Morgan Creek Digital and a popular crypto-influencer tweeted,
Deutsche Bank plans to fire almost 20,000 employees. Bitcoin has no employees to fire. DB is built for the old world. And Bitcoin is built for the new world.
In most cases, correlation does not mean causation. Nevertheless, the declining currencies of China, the US, the UK, and high inflation characteristics in countries like Turkey, Brazil, and Venezuela is perceived to have a positive effect on Bitcoin.
Moreover, the economic meltdown which could be dubbed as heresy spread by Bitcoin investors, even critics of Bitcoin like Nouriel Roubini has indicated about the adverse financial condition of the world. Mati Greenspan, Senior Market Analyst at eToro also tweeted about the Deutsche bank cutbacks,
The old financial system is dying a slow death. ???? Let's hope the new one is brighter. ????????
The low-interest rates from the Central Banks are causing the investment banks reduced profitability. Mati cited that the return at investments is currently <2%. Moreover, while this hardy has a direct correlation with Bitcoin's positive growth directly, the failure of this economic system could lead to a possibility where Bitcoin's protocol and limited supply will limit the role of the banks.
Leading Bitcoin proponents, VanEck CEO, Gabour Gurbacs and Whalepanda also commented on the news.
tweet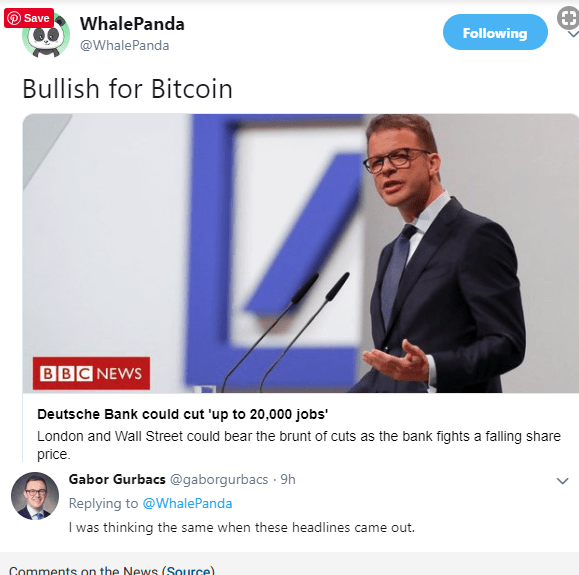 Nivesh Rustgi Bitcoin News
Alan Zibluk Markethive Founding Member