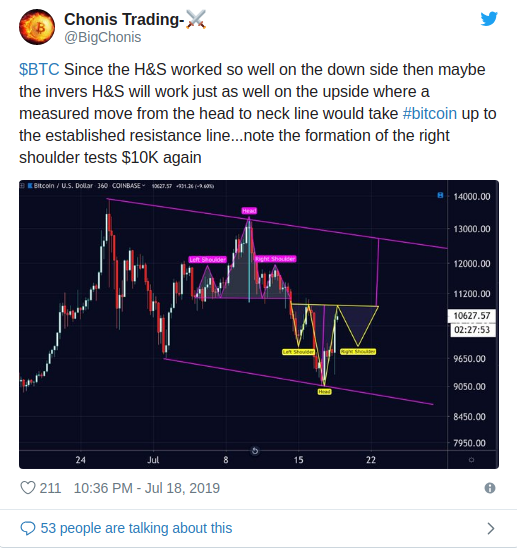 35% Bitcoin Price Drop to $9,100 is Historically Natural, Don't Worry – Analyst
Bitcoin and the aggregated crypto markets have been incurring significant volatility as of late that has made it increasingly unclear as to which direction BTC is heading and has even made it difficult to know whether bulls or bears are in control.
Although Bitcoin's recent drop to $9,100 certainly signaled that the crypto's bears have significant strength, the subsequent price surge past $10,000 signals that bulls are still in control, and one analyst believes that the recent pullback is both natural and necessary for the uptrend to continue.
Bitcoin Climbs Towards $10,400 as Bulls Step Up
At the time of writing, Bitcoin is trading down slightly at its current price of $10,370, which is down slightly from its daily highs of roughly $10,700.
Although its price has dropped from its daily highs, it is important to note that it is trading up significantly from its weekly lows of $9,100 that were set earlier this week.
The positive reaction to the recent dip into the four-figure price region signals that buyers are still in control, and that there is a significant amount of buying support that exists below $10,000.
While looking at Bitcoin's near-term price action, analysts are noting that the cryptocurrency might be forming an inverse head and shoulders pattern, which could mean that BTC will drop slightly before surging up towards $13,000.
"$BTC Since the H&S worked so well on the down side then maybe the inverse H&S will work just as well on the upside where a measured move from the head to neck line would take #bitcoin up to the established resistance line…note the formation of the right shoulder tests $10K again," Chonis Trading, a popular crypto analyst, noted in a recent tweet.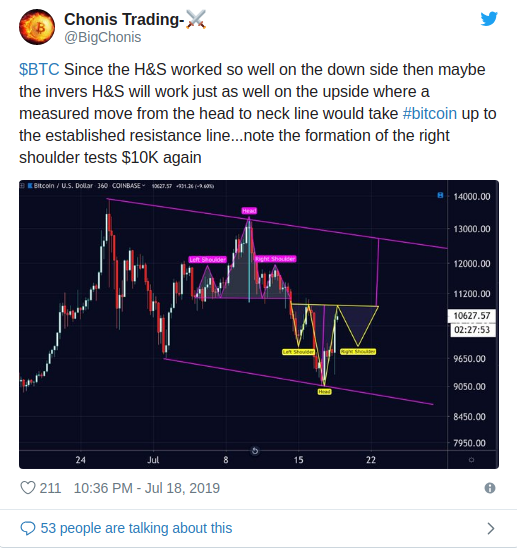 BTC's Latest Pullback Could Be Entirely Natural
Although the recent pullback marked the end of the recently incurred bull market in the mind of many investors, one prominent analyst is now explaining that 30-40% pullbacks during the course of an uptrend are entirely natural.
CryptoThies, another popular analyst on Twitter, spoke about this in a recent tweet, explaining that it is part of a "rinsing/repeating" pattern that has been seen several times throughout Bitcoin's history.
"$BTC Bull run in 2015-2017 included run-ups, typically followed by a retrace to touch the top of the prior high. These drops ranged from 31-40%, before rinsing/repeating onward. Looks very similar to what we are seeing now," he explained.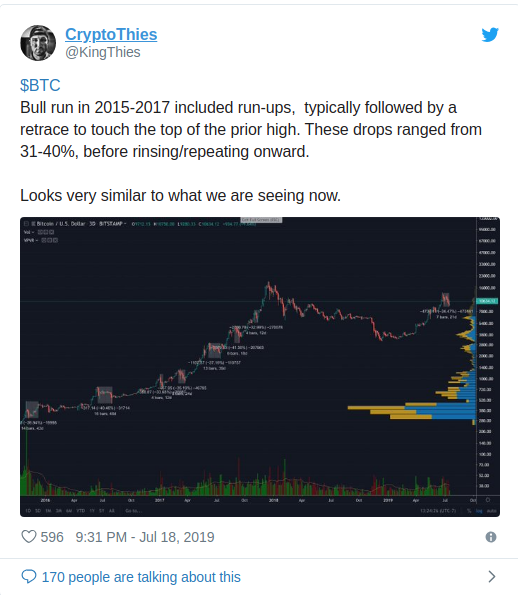 Whether or not this pattern is a natural one or one that spells trouble for BTC will likely grow increasingly clear in the coming days as weeks as the cryptocurrency continues to struggle to hold above $10,000.
By Cole Petersen
Alan Zibluk Markethive Founding Member